FRIENDLY HOTELS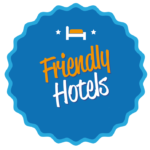 Have you already booked your accommodation for a race weekend? Our friendly hotel offers a wide scale of hotels right in the city. Select yours here and be sure you will be treated like a winner!
In this Half Marathon friendly accomodations, on the day of the race, you will have the possibility to have breakfast from 6.30 am
Shuttle bus service for all the "Friendly hotel guests".
All the participants which will be guests in the "Half Marathon friendly hotels" (see list in our web-site), will find a special shuttle bus direct to Palafiere on Saturday and Sunday.
You can use the "Friendly hotel guests" shuttle bus just swowing a special ticket that you will receive at your hotel desk. When you arrive at Palafiere you will find the other shuttle bus direction arrival point.


ALEA GARDA LAKE SUITE
Arco (TN) - Viale Narzelle, 14
T: + 39 333.6819962
www.alea-suite.com



HOTEL LUISE ****
Riva del Garda (TN) - Viale Rovereto, 9
T: + 39 0464.550858
www.hotelluise.com




HOTEL PORTICI - Romantik & Wellness ****
Riva del Garda (Tn) - Piazza 3 Novembre, 19
T: + 39 0464.555400
www.hotelportici.it




GARNI' ON THE ROCK ***
Arco (Tn) - Vicolo Ere, 23
T: +39 0464.516825
www.garniontherock.com




LIDO PALACE *****L
Riva del Garda (TN) - Viale Carducci, 10
T: +39 0464.021899
www.lido-palace.it


DU LAC ET DU PARC GRAND RESORT ****S
Riva del Garda (TN) - Viale Rovereto, 44
T: +39 0464.566600
www.dulacetduparc.com


HOODY Active & Happiness Hotel ***
Arco (Tn) - Via Francesco II di Borbone 14
T: +39 0464.740400
www.hoodyhotel.com


GRAND HOTEL LIBERTY ****
Riva del Garda (Tn) - Via Carducci, 3/5
T: + 39 0464.553581
www.grandhotelliberty.it




HOTEL EVEREST ARCO ***
Arco (Tn) - Viale Rovereto, 91
T: + 39 0464.519277
www.hoteleverestarco.it





OASI HOTEL ****
Riva del Garda (TN) - Viale Rovereto, 110
T: +39 0464 554507
www.oasi-hotel.it



HOTEL VILLA FRANCA ***S
Arco (Tn) - Via Lungo Sarca, 8 - Loc. Linfano
T: + 39 0464.505162
www.hotelvillafranca.net




GRAND HOTEL RIVA ****
Riva del Garda (TN) - Piazza Garibaldi, 10
T: + 39 0464.521800
www.grandhotelriva.it


HOTEL RUDY ***S
Riva del Garda (TN) - Via S.Nazzaro, 81
T: +39 0464 552559
www.hotelrudy.com